Bevan does it again - we are one of the top 50 growing businesses in Sandwell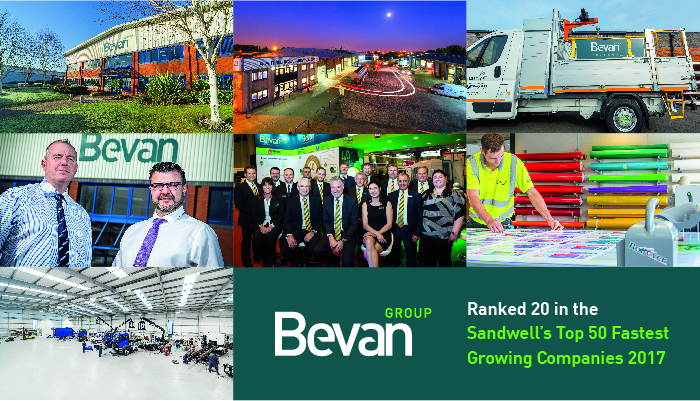 We are delighted to have been placed in Sandwell's Top 50 Fastest Growing Companies index for the second year running, courtesy of Think Sandwell.
The index celebrates businesses of all sizes and aims to see local companies thrive, keeping our region's economy healthy. It's fantastic we have ranked at number 20 in the report, having grown over 15% in the last year, and we are in 10th place against other manufacturing companies in the region.
This achievement is a reflection on a busy twelve months for us. We have seen a significant period of growth, expanded into our new head office and production facility, acquired A&R Vehicle Services and its six-acre site, and relocated our highly successful Specialist Products division to a larger site after they outgrew their previous base.
We have also grown our mobile engineer Aftercare Response division to 40+ engineers, relocated our vehicle graphics division into larger premises and invested in the latest printing equipment.
Our expansion doesn't stop there. We appointed two additional directors, Simon Dryburgh and Ian Roberts, to help assist in our growth strategy over the coming years. Simon was promoted from General Manager to Director to reward his commitment and hard work in the Aftercare division. Ian has been appointed as Engineering and Production Director and is leading the design and manufacturing teams at Bevan's production facilities.
Our Bevan Passport scheme has also continued to be a huge success, with the growth of its customer base expanding overseas to Ireland.
Anthony Bevan, Group Director comments: "This is a fantastic achievement for us following the expansion of the group over the last twelve months. We have hit some key milestones and our growth year-on-year wouldn't be possible without the hard work and dedication from our team at Bevan. They've been working with our existing customers to continue to provide high levels of service, as well as helping to grow the business with a number of new contracts. Thank you."
Download your free copy of Think Sandwell's 'Top 50 Fastest Growing Companies Index 2017'