Aftercare Response takes its reassuring 'quality approved' PAS 43 message on the road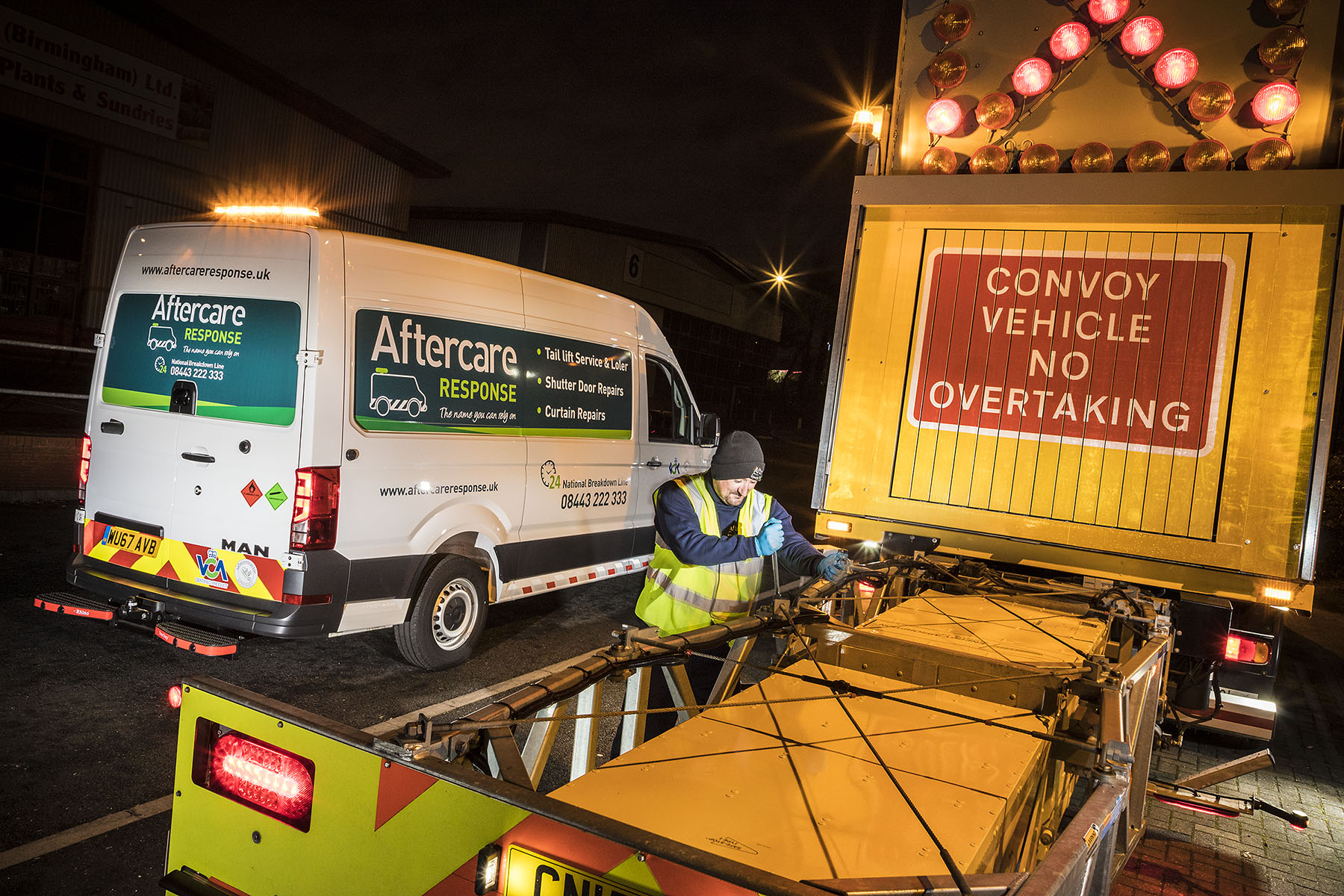 Mobile services leader Aftercare Response returns to next week's Microlise Transport Conference having added another string to its bow, in the shape of a prestigious quality standard developed to improve safety for roadside recovery technicians and customers.
More than 1,200 professionals are expected to attend Europe's largest road transport conference, which takes place once again at the Ricoh Arena, Coventry, on 15th May.
Fast-growing Aftercare Response also exhibited at the corresponding event last year – but this time it can also promote its coveted PAS 43 'best practice' accreditation.
Part of the multi-faceted Bevan Group, Aftercare Response maintains and repairs commercial vehicle bodies and ancillaries. With more than 50 dedicated field-based engineers, and a further 100 approved agents, it provides operators nationwide with planned and emergency support covering bodywork of all kinds, as well as tail-lifts, cranes, roller shutter doors, and more specialist items such as impact protection vehicle 'crash cushions'. They are managed by a service desk team based at Bevan HQ in Wednesbury, West Midlands.
The requirements within PAS 43 have been agreed by the major organisations within the breakdown and recovery industry. Awarded following an exhaustive audit by ACS Registrars, Aftercare Response's certification demonstrates that the company has a comprehensive quality management system, and established procedures in place to meet relevant safety standards and legislative requirements.
Aftercare Response Head of Sales Development Dean Miller says: "We've won a number of high-profile contracts from some of the sector's biggest names recently, and our PAS 43 accreditation has been instrumental to these successes.
"Roadside breakdown attendance can be very dangerous and this certification gives customers the reassurance of know they are dealing with a quality organisation, which is committed to best practice when it comes to the training of technicians on how they should work during 'live' roadside incidents, as well as other staff involved in the process of accepting and assigning jobs."
Sponsored by SURVIVE – a partnership between the Government and Police, as well as service organisations and the motoring industry – PAS 43 was developed through the British Standards Institution. It also covers procedures for provision of protective clothing and equipment used by technicians, and the maintenance of vehicles, as well as technology and facilities at the service provider's base.
Reflecting the in-roads it has made over the last year with operators of highways management and impact protection vehicles, Aftercare Response recently completed a successful three days at Traffex 2019, the show for road traffic management professionals, which took place at the NEC Birmingham at the beginning of April. It will also be exhibiting at November's Traffex Scotland expo, in Glasgow.
Aftercare Response has come a long way in a very short time. Five years ago it ran 11 vans and turned over £1.3 million. Today, that figure has shot up to more than £8 million.
Dean Miller: "Our PAS 43 accreditation has been instrumental to recent successes"