SAS lifts the curtain on its new partnership with Bevan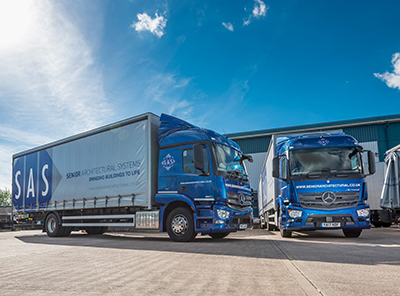 The UK's largest privately-owned fenestrations systems company turned to the industry's leading manufacturer of specialist transport solutions, for the curtainside bodies fitted to its new distribution fleet.
Doncaster-based Senior Architectural Systems (SAS) has replaced its previous vehicles with seven smartly-liveried 18-tonners, two of which pull drawbar trailers at gross train weights of up to 36 tonnes.
The bodywork for the Mercedes-Benz Actros and their trailers was built on the 'standard' production line at the St Helens factory of Supertrucks. Acquired by the Bevan Group in 2014, Supertrucks enjoys an enviable reputation for its bespoke design capability, and for the quality of the bodies and racking systems it manufactures for the glass and glazing sector.
The new fleet represents a major investment for SAS. The company began life in 1991 as Senior Aluminium Systems, a name it changed to Senior Architectural Systems in 2008 to reflect the expansion of its product range. Today, SAS offers a comprehensive portfolio of windows, doors and related products, with its energy-efficient PURe® and Hybrid systems key drivers behind its continued growth.
Although SAS has returned to Yorkshire Dealer Northside Truck & Van for another clutch of Mercedes-Benz chassis, this is the first time it has commissioned Bevan to build its bodywork. The curtainsiders are in three lengths: 9.2 metres for the trucks that work solo, 7.7 metres for the two drawbar prime movers, and 7.4 metres for their twin centre-axled trailers.
SAS is using its new trucks to deliver aluminium extrusions at various lengths, but typically 6.1 metres, along with palletised accessories, to fabricators nationwide. The drawbar rigs also trunk product twice a week to the company's bases in Livingston and Newport.
Transport Manager Megan Hughes reveals: "Our previous bodybuilder went bust shortly after we took delivery of the last batch of vehicles, which left us without after sales support. We were particularly vigilant, therefore, when we came to select a supplier this time round."
SAS whittled the potential candidates down to a shortlist of three, before coming down in favour of Bevan. "We visited the bodybuilder's HQ in the West Midlands and were impressed by its commitment to quality," she recalls.
"The design of our truck bodies is relatively straightforward, but the products we carry are heavy and can be quite cumbersome, so strength and durability are both crucial. These are still early days, of course, but it's clear to see that our new curtainsiders are built to a much higher standard than those they've replaced."
She continues: "We also took soundings from various other parties, and none had a bad word to say about Bevan. We've opted again for Mercedes-Benz chassis, but we also spoke to three other manufacturers – the verdict from each of them was that we wouldn't go wrong if we chose Bevan."
The highly responsive back-up provided by Bevan's fast-growing Aftercare division was also an important factor in SAS's decision. "We've had a couple of minor teething problems, which can happen with any new vehicles," says Megan Hughes. "Bevan jumped on them straight away and they were quickly resolved, which is very reassuring."
SAS has also been visited by the Bevan Group's Customer Care Manager Claudia Spencer, whose role entails liaising regularly with operators to ascertain that all is running smoothly, and identify opportunities for improvement.
"Claudia's certainly on the ball, professional and very helpful, as is Bevan's Production Director Ian Roberts," continues Ms Hughes. "On the evidence of what we've seen so far, Bevan's after sales support is every bit as good as we'd been promised."
The new trucks have aerodynamic StreamSpace sleeper cabs and are the subject of a Mercedes-Benz Financial Services contract hire agreement. Five are Actros 1827 models with 200 kW (272 hp) engines; the two drawbar units are 1835s with more powerful, 260 kW (354 hp) versions of the same 7.7-litre straight-six.
"Image is also important and our new fleet looks fantastic," adds Megan Hughes. "We're delighted with the vehicles."